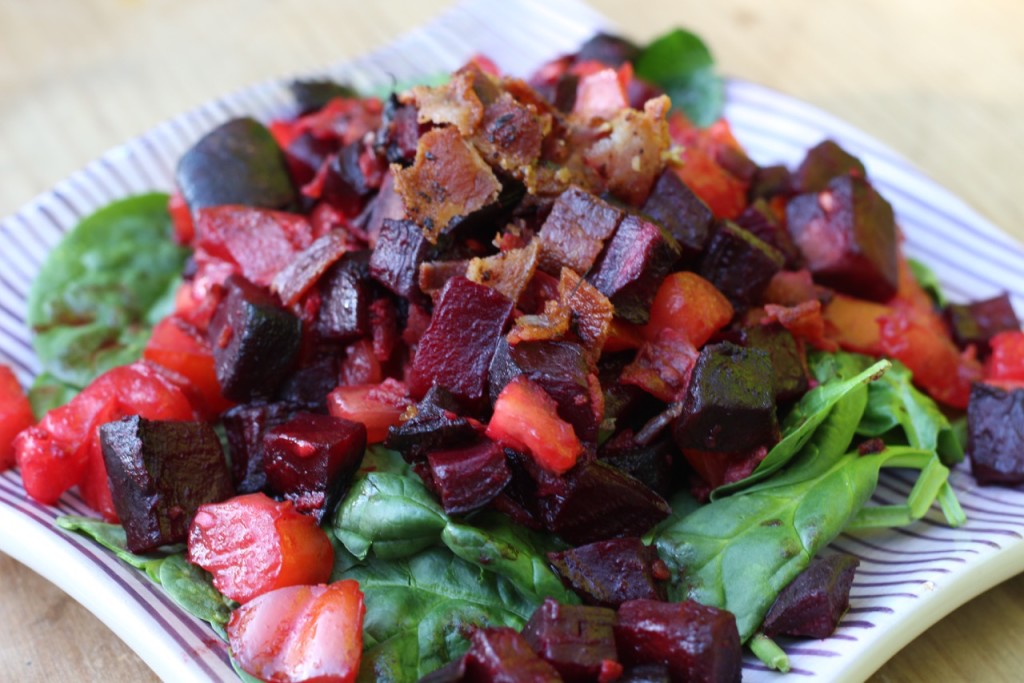 Bacon, Beet, Tomato Salad
This salad is great for the beginning of the SIBO diet because it is easily digestible. I have become a big fan of oven roasted beets and then when you add bacon it pretty much makes any dish delicious. You could use any type of tomato but for me the taste of an heirloom tomato blows any other type of tomato out of the water. If you have not yet had the pleasure of trying an heirloom tomato then I highly recommend using this opportunity to give it a go. Don't be intimidated by all go the different types any kind will do or a combination of several mmm amazing.
Author:
Samantha B. Johnson
Ingredients
3 Red Beets
8 pieces bacon
2 med Heirloom tomatoes
1 bunch Spinach
1 cup Walnuts
¾ tsp salt
½ tsp black pepper
6 tbsp Garlic infused oil
Red wine vinegar
*Optional add feta or creamy goat cheese if you can tolerate it, neither of those types of cheeses are SIBO friendly because they contain some lactose. If you know that lactose does not bother you then they make a nice addition to the salad.
Instructions
Preheat oven to 400 degrees
Cut beets into small cubes and put in a baking dish. Add salt pepper and garlic infused oil and stir beets to make sure oil and spices gets evenly spread. Bake for 40-50 min or until softened to your liking.
While beets are baking cook bacon to desired crispiness and set aside
After you remove bacon use leftover grease to sauté walnuts with adding a touch of salt. Sauté until they begin to brown and then remove from skillet and set aside.
Chop tomatoes into small pieces and set aside
When beets are done let them cool a bit and then stir in spinach so it softens. When beets have cooled to room temp add bacon pieces, chopped tomatoes and walnuts.
Add red wine vinegar, garlic infused oil and a touch of salt to individual servings as dressing and enjoy!