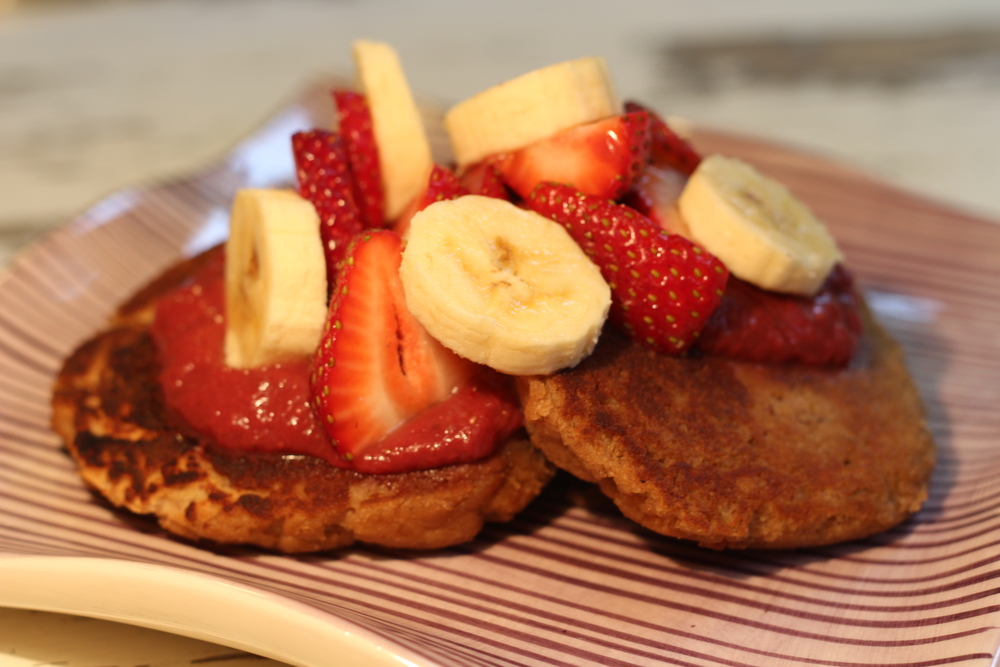 Banana Paleo Pancakes with Strawberry Syrup
This is my special version of the classic Paleo pancake made a little more delicious with a strawberry syrup. Great for breakfast or as a sweet snack anytime of the day. Yummy!
Author:
Samantha B. Johnson
Ingredients
Batter:
½ cup coconut flour
2 ripe banana's
½ cup water
2 eggs
1 tbsp honey
1 tsp cinnamon
½ tsp baking soda
¼ tsp salt
½ tbsp vanilla extract
1 tbsp coconut oil


Strawberry Syrup:
½ lb ripe strawberries
* optional 1 tsp honey
Instructions
If you plan to make the strawberry syrup, start it first so it can cook down while you make the pancakes. Instructions below.



Batter:
Put all ingredients into a medium sized bowl
Mix with hand mixer until smooth
Add ½ tbsp coconut oil to medium high skillet when nice and hot add ¼ cup sized dollops batter onto skillet and flatten so that they make a disk shape no more than ½" thick
Let first side brown then flip and brown other side.



Optional Strawberry syrup:
Cut stems off strawberries throw in blender or cuisinart and puree.
Put on stove on medium until volume reduces by half (about 30min)
Turn off stove and stir in honey
*The riper the strawberries the sweeter this will be.
Serve pancakes with strawberry syrup and add sliced strawberries and bananas if you like.