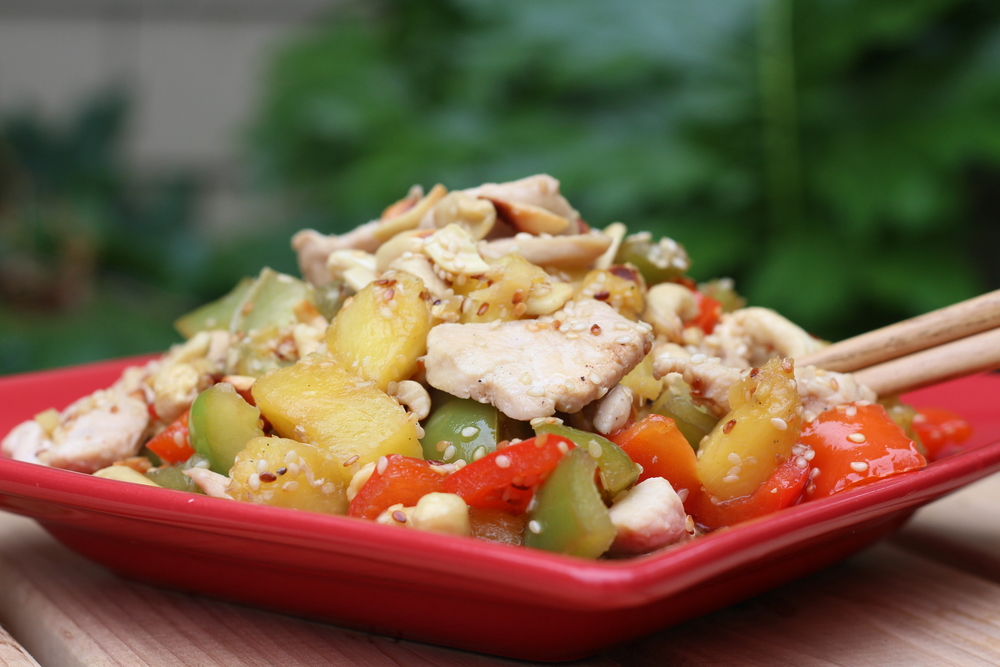 Cashew Chicken with Bell Peppers and Pineapple
This dish is a combo of a cashew chicken dish that is a classic Chinese food dish and the pineapple bell pepper curry dish made typically in Thai food. It turned out super tasty. It has a sweet and sour type flavor with kick of spice. I think you are gonna love it!
Author:
Samantha B. Johnson
Ingredients
Chicken:
2 chicken breasts- boneless skinless
1 tsp salt
2 tbsp coconut oil


Veggies:
2 tbsp garlic infused oil
1 red bell pepper
1 green bell pepper
½ pineapple
1 tbsp ginger- chopped
2 tbsp fish sauce
2 tbsp coconut aminos
½ lime
½-1 Serrano pepper (depending on desired level of spice)
1 tbsp ume plum vinegar


Topping:
1 tbsp garlic infused oil
1 cup cashew
⅓ cup sesame seeds
Instructions
Add 1 tbsp garlic oil to med/high heat skillet.
Add chopped cashews and let cook for a minute then add sesame seeds stir it all up and let brown making sure not to burn the sesame seeds.
Remove from heat. Set aside and let cool
Cut Chicken into carnival ticket sized pieces about ¼" thick.
Turn skillet on med/high and let it get nice and hot, add coconut oil and lay chicken pieces in pan so that each piece is touching the pan bottom.
Sprinkle salt evenly over top. Let first side brown then turn pieces and let other side brown.
In another skillet add garlic infused oil, cubed bell peppers, minced ginger and minced Serrano pepper. Let bell peppers soften about 5-7min.
Add Pineapple cubes let cook another few minutes.
Add rest of ingredients: coconut aminos, fish sauce, plum vinegar and lime turn heat down to low/med after about a minute.
Add chicken to veggie mixture mix it all together. Sprinkle cashew and sesame seeds over top and serve.