Sweet and Spicy Beef & Green Beans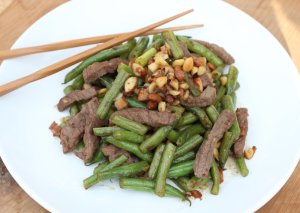 Author:
Samantha B. Johnson
½ lb beef stir fry meat (I bought the already sliced beef stir fry meat from the prepackaged meat section)
1 lb green beans- cut into thirds
3 tbsp garlic infused sesame oil
½ cup almonds- chopped
1 tbsp + 1 tsp coconut aminos
1 tbsp lemon juice
1 serrano pepper
¼ tsp salt
2 tsp honey
Put 2 tbsp of garlic infused sesame oil in med high skillet
Add chopped almonds and sauté a few minutes then add chopped sereno pepper and sauté until almonds start to brown
Push almonds off to side of skillet (I push them around the rim) and add another tbsp. of garlic oil and beef pieces to the middle of the skillet
Sauté until beef strips have browned on the one side
Flip beef strips sauté a few more min and stir in with almonds and add green beans and 1 tbsp coconut aminos
Turn up heat to high and let water that has accumulated evaporate off
In a small cup add 1 tsp coconut aminos and lemon juice with the honey and stir it up to make a sauce. Pour over beef and beans and mix in.
When all liquid has boiled off remove from heat.
Recipe by
SIBO Diet Recipes
at http://sibodietrecipes.com/sweet-and-spicy-beef-green-beans/