Moroccan Baked Chicken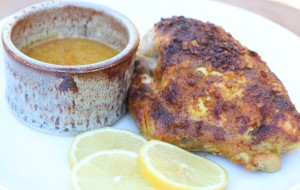 Author:
Samantha B. Johnson
Chicken:
2 organic bone in chicken breast with skin
2 tbsp garlic infused sesame oil
¾ tsp salt
¼ tsp black pepper
¼ tsp paprika
½ tsp cumin
½ tsp turmeric
¼ tsp coriander
lemon rind shaved from 1 small lemon
½ lemon- juiced
Ginger 1" piece- grated or minced
Gravy:
1 tbsp coconut flour
2 tbsp cold water
Night Before...
Wash and dry chicken breasts and put in a glass tupper wear or bowl
Pour 1 tbsp garlic oil over each breast and squeeze ½ lemon over breasts
Mix all spices and salt in a cup and sprinkle over breasts making sure to cover them evenly
Grate ginger and lemon rind and sprinkle over breast then press it into skin so it doesn't fall off
Cover and put in fridge to marinate overnight
Next day...
Preheat oven to 400 degrees
Transfer chicken to a baking dish and bake at 400 degrees for 30min
Reduce heat to 350 degrees and bake for another 30 min
If you like your skin crispy and chicken hasn't sufficiently browned then turn oven to broil and bake for another 5-10 min until it has reaches desired crispiness
If you want to make a gravy with the chicken drippings then remove chicken from baking dish pour drippings into a pot and heat on med/high to begin to boil off water and thicken
In a small cup mix together coconut flour and cold water until it forms a paste. Slowly add spoonful's of the coconut flour and water slurry into the pot with chicken dripping and keep stirring until it has all mixed in.
Serve chicken with gravy and savor every last bite!