Garlic Sesame Baby Bok Choy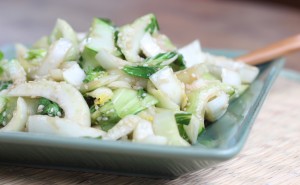 Author:
Samantha B. Johnson
3 baby bok choy
2 tbsp. garlic infused sesame oil
¼ cup sesame seeds
½ tbsp. fish sauce
2 tbsp. coconut aminos
Crush a few cloves of garlic and cover with 2.5 tbsp sesame oil and set aside
Cut off ends of baby bok choy and slice width wise along the whole length and set aside
Heat skillet on medium high letting it get nice and hot, add 2 tbsp garlic infused sesame oil (just to clarify, do not use garlic, just oil that has infused with the garlic) and sesame seeds. Let seeds sauté for 30sec to 1min. (You don't want them to start to brown)
Add chopped bok choy, coconut aminos and fish sauce and mix it all together and sauté for just a few minutes. (bok choy softens really easily and really fast, so it is easy to overcook it and then it will be come slimy)
Remove from heat and eat!
Recipe by
SIBO Diet Recipes
at http://sibodietrecipes.com/garlic-sesame-baby-bok-choy/