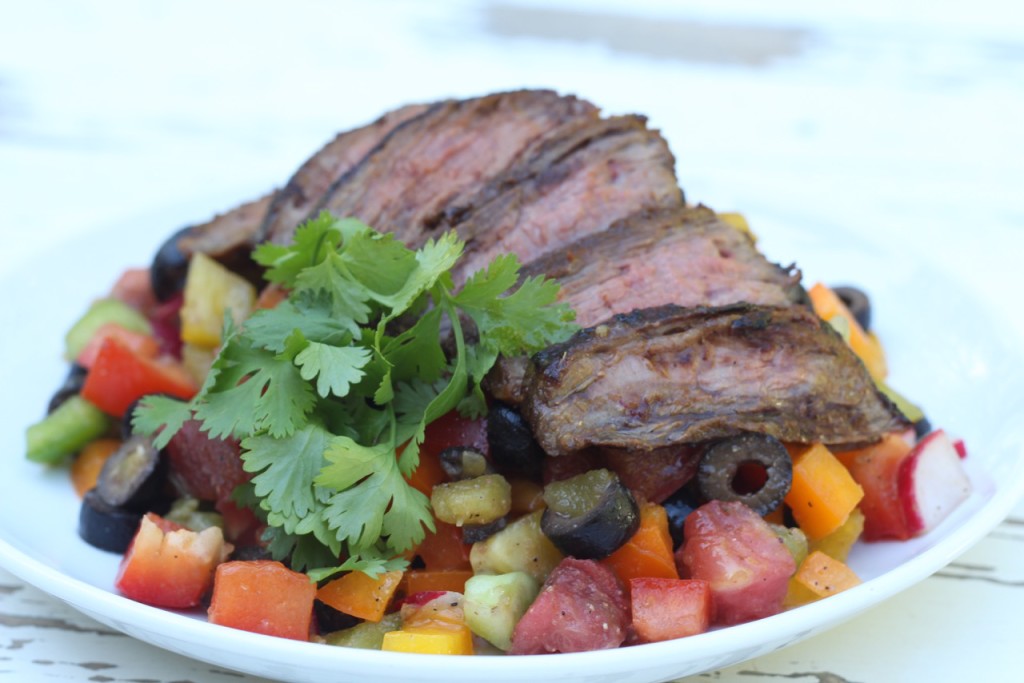 Rainbow Mexican Pepper Salad with Flank Steak
I can't take full credit for this recipe. A version of it was made for me on a hot date with a lovely man. I was thoroughly impressed and I assure you, you will be too! The salad is really flavorful and the steak melts in your mouth! Great meal on these hot summer nights.
Author:
Samantha B. Johnson
Ingredients
Salad:
1 green bell pepper- chopped
1 red bell pepper- chopped
1 yellow bell pepper- chopped
1 green bell pepper- chopped
1 can sliced black olives
1 can hatch green chilies
6 radishes- chopped
2 med heirloom tomatoes- chopped
¼ cabbage- chopped
1 bunch cilantro- minced
1 tsp coriander
1 tsp cumin
½ tsp black pepper

Dressing:
2 tbsp Garlic infused sesame oil
½ tsp salt
1 lemon squeezed

Steak & Marinade:
1.5 lbs flank steak
1 cup coconut vinegar
⅓ cup coconut aminos
1 tsp honey
½ tsp salt
1 jalapeno- seeds removed
1 lg carrot
2 tsp Chipotle powder
Instructions
Put all steak marinade ingredients into blender and blend until smooth.
Put steak into a bowl and cover in marinade, let sit for one hour.

While steak is marinating chop all salad ingredient into small cubes and throw into a large bowl.
When steak has finished marinating cut it into a few pieces so that it can fit it in your skillet (I had to cut mine into three). Turn skillet on med/high and let it get nice and hot add garlic infused sesame oil so whole pan is covered in oil and pan fry steak about 5 min on each side for med/rare. You will have to use your own judgment here as to how long to cook it for depending on how you like your meat cooked. Better to cook it for less time and then check it, you can always cook it longer and remember it will continue to cook even when you have removed it from the pan.

When steak is done and has cooled to room temp slice it on an angle into strips to be served on top of pepper salad.
Add dressing to salad and serve with steak slices.