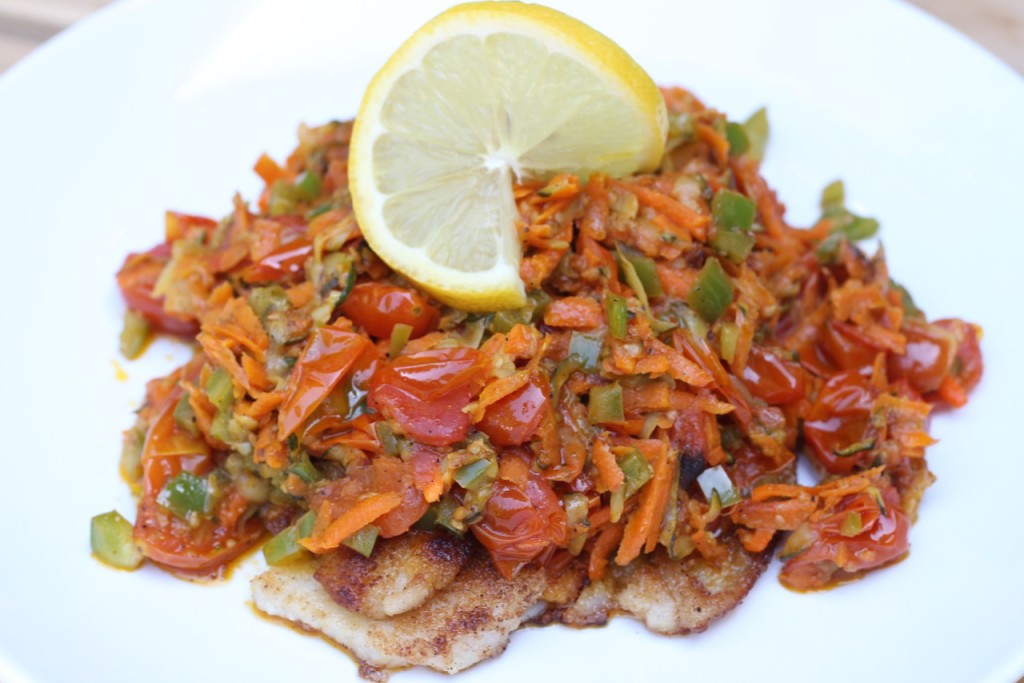 Succulent Sole with Anaheim pepper marinara
Not a huge fan of fish in general but I find with the right topping you can make anything delicious. This certainly turned out to be the case here. Wowser this turned out good! Who said being on the SIBO diet has to be boring. 🙂 I think the picture speaks for itself. Yum!!!
Author:
Samantha B. Johnson
Ingredients
Marinara
½ carrot shredded
½ zucchini shredded
1 Anaheim pepper
3 tbsp oil
½ pin cherry tomato
½ tsp salt
¼ tsp black pepper
⅛ tsp cayenne
½ tsp coriander
½ lemon juice


Sole
4 small fillets of Sole
4 tbsp oil
¼ cup coconut flour
½ tsp salt
¼ tsp paprika
¼ tsp black pepper
Instructions
Heat skillet to med/high heat let it get nice and hot, add oil of choice then add shredded carrot and zucchini
Let carrot and zucchini cook for 5 min or until they just begin to brown
Add cherry tomatoes, salt and all of the spices
Once cherry tomatoes have softened and started to break down add Anaheim pepper and lemon juice
Cook until everything is nice and softened and looks like picture above and set aside.
In a shallow bowl or plate mix flour, salt and spices for sole
Coat both sides of Sole in flour/spice mixture pressing it in so you get a nice layer of breading
Heat skillet to medium high heat and add oil of choice. When skillet is nice and hot add breaded sole. The sole I used was really thin so it didn't take much time to cook on each side but a thicker piece would require more time on each side. You will have to determine cook time on your own here. I will offer some tips: Use a lot of oil it will brown better and flip better if it is lubed up properly. Try not to flip it too many times because sole is flakey and will break apart easily.
When Sole is nice and browned on both sides and sufficiently cooked through its time to eat. Top breaded sole with a sufficient quantity of marinara and get ready for a real treat! Mmmm my mouth is watering just thinking about it.