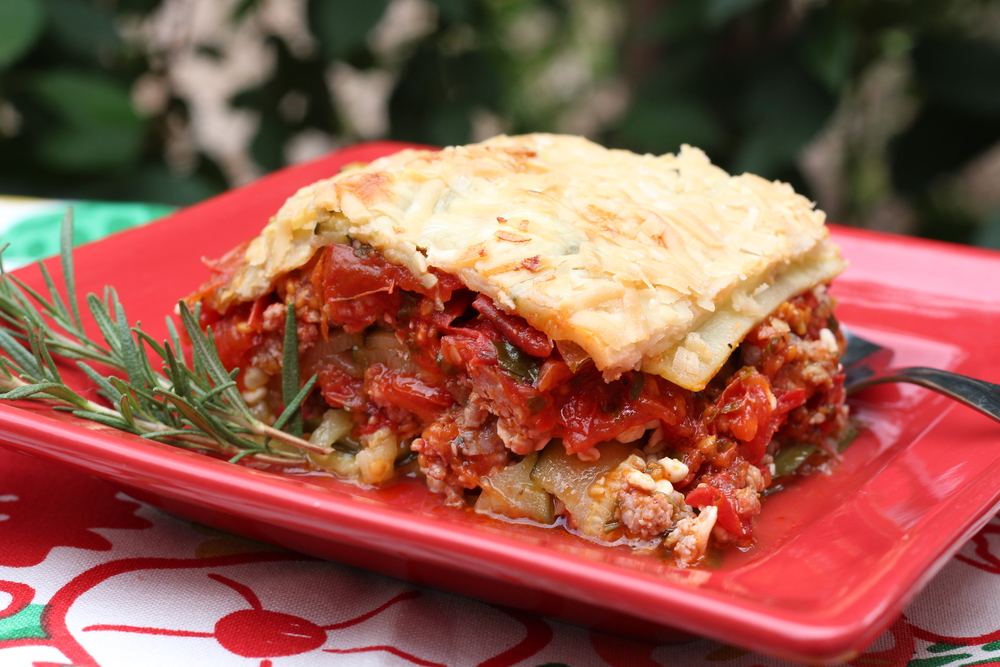 Zucchini Lasagna
Wow this lasagna is so good you will not feel like you are missing out at all by trading in noodles for zucchini and replacing the ricotta with dry curd cottage cheese. It is definitely a time commitment but well worth it. Enjoy!
Author:
Samantha B. Johnson
Ingredients
Noodles:
2 zucchini
⅛ cup olive oil
¼ cup salt



Tomato Sauce:
6 cups chopped tomatoes
1½ tsp salt
½ tsp black pepper
½ tsp red pepper
4 tbsp fresh basil sliced
1 tsp fresh oregano
1 tsp fresh thyme
4 tbsp garlic infused oil



Filling:
1lb mild Italian sausage
Dry curd cottage cheese
2 cups Parmesan Cheese- grated
Instructions
Slice zucchini with a mandolin into noodle thickness
Put zucchini a bowl with ⅛ cup olive oil and ¼ tsp salt make sure zucchini gets coated all over and set aside
In a medium high heat pot add 4 tbsp garlic infused oil, tomatoes, salt and spices letting it cook until sauce volume has reduced by half (about 1hr).
Preheat oven to 350 degrees
In another skillet add 1 tbsp garlic infused oil and brown sausage meat and set aside
When sauce is finished you can layer the lasagna using an 8 x 8 baking dish. Start with a layer of zucchini followed by ¾ cups dry curd cottage cheese and half of the meat and half of the tomato sauce. Repeat layers and then add one last layer of zucchini on top. Cover with parmesan cheese. Bake in oven for one hour.
Notes
***Note as the zucchini cooks a lot of water is released. If you have a baster then pull off water at about 30min and then again after it is finished cooking. If you don't have a baster then pour off the water or scoop it out. The broth that comes off is phenomenal so save it to make a soup. I usually put it in the freezer to use a soup broth on a rainy day.