What is the SIBO Specific Diet?
It is a combination of the Specific Carbohydrate Diet otherwise known as SCD, and Low FODMAP'S diet. SCD was developed by Elaine Gottschall, a biochemist and a biologist who wrote the book "Breaking the Viscous Cycle". She developed the diet for treatment of Crohn's disease, ulcerative colitis, celiac disease, diverticulitis, cystic fibrosis and chronic diarrhea. FODMAP stands for Fermentable, Oligo-, Di-, Mono-saccharides And Polyols. This diet was developed by Gibbson and Sheppard at Monash University for treatment of Irritable Bowel Syndrome.
Why use the SIBO Specific Diet?
There are several diets being recommended to treat SIBO.
The SIBO Specific Diet is great for those who have difficult cases of SIBO where other diets are not sufficiently providing symptomatic relief. Unlike other diets such as Specific Carbohydrate Diet (SCD) and FODMAPs Diet, Cedar Sinai Diet and GAPs the SIBO Specific Diet is the only one that has been specifically formulated to treat SIBO by leading expert in SIBO, Dr. Allison Siebecker. The SIBO diet essentially combines the SCD and FODMAPs diets.
Who can benefit from the SIBO Specific Diet?
The SIBO Specific Diet is a treatment for:Irritable Bowel Syndrome
Irritable Bowel Disease- Crohn's disease, Ulcerative colitis
Celiac's disease
Diverticulitis
Cystic fibrosis
Chronic diarrhea or chronic constipation
Even if you've not been diagnosed with SIBO or any other gastrointestinal condition you can still enjoy this diet for its benefits in weight loss and increased energy.
How the Diet works
The rationale behind using the SIBO Specific Food Guide is to avoid foods that feed the bacteria that have overgrown and eat foods that are easily digestible and break down quickly in your small intestine. Foods that feed the bacteria are those that are composed of short and long chain fibers, starch and sucralose. Foods that are easily absorbable are simple sugars and have little fiber. This way the food you eat will be absorbed immediately so the bacteria don't have time to get to the food before you have utilized it.
Fiber is indigestible to humans, as we do not have the enzymes to break it down. We need bacteria to digest it for us because they do have the enzymes to break it down. Fiber is present in all plant foods but some more than others. The SIBO Specific Food Guide limits the amount of fiber you are consuming so as not to feed the bacteria.
Foods that are fermentable such as artichokes, asparagus and grains stick around longer in your intestine and provide excellent food for bacteria. Foods in the SIBO Food Chart (PDF) are classified into low, medium and high based on their fermentability. Generally you want to eat the "low" fermentability foods and restrict the "highly" fermentable foods.
It has been found that having SIBO can cause lactose mal-absorption/intolerance as well as fructose mal-absorption /intolerance. Thus another element of the combo diet is removal of foods that contain lactose or high levels of fructose.
Below are general principles, helpful tips and resources for the combo diet. We know that if you are reading this blog it means you or someone you know is most likely in a good deal of discomfort and are ready to feel better. We want you to be successful. This information comes from personal experience, clinical experience and clinical trials. It is the best way we know at this time to treat SIBO. We know this diet involves making big life changes but it is worth it and it will help if done properly. Good luck!
And contact me if you have questions or comments!
Overview
The main principles of this diet are:
No starch
Low fiber
Low fermentable fruits and veggies
Watch portion size – this is based on fermentability of the foods
No raw foods or beans at first
Wait at least 4 hours between meals
What you can eat
As much as you want of:
What you can't eat
No grain (yes, that includes quinoa and oats)
No sugar
No corn, soy or tubers
No thickeners – carrageen, guar gum, agar
No mucilaginous foods- flax, chia, seaweeds, licorice, aloe, astragalus, slippery elm
No bone broths *(cartilage broth is not allowed but marrow both is allowed)
No beans at first
No garlic or onions
Click image to download food chart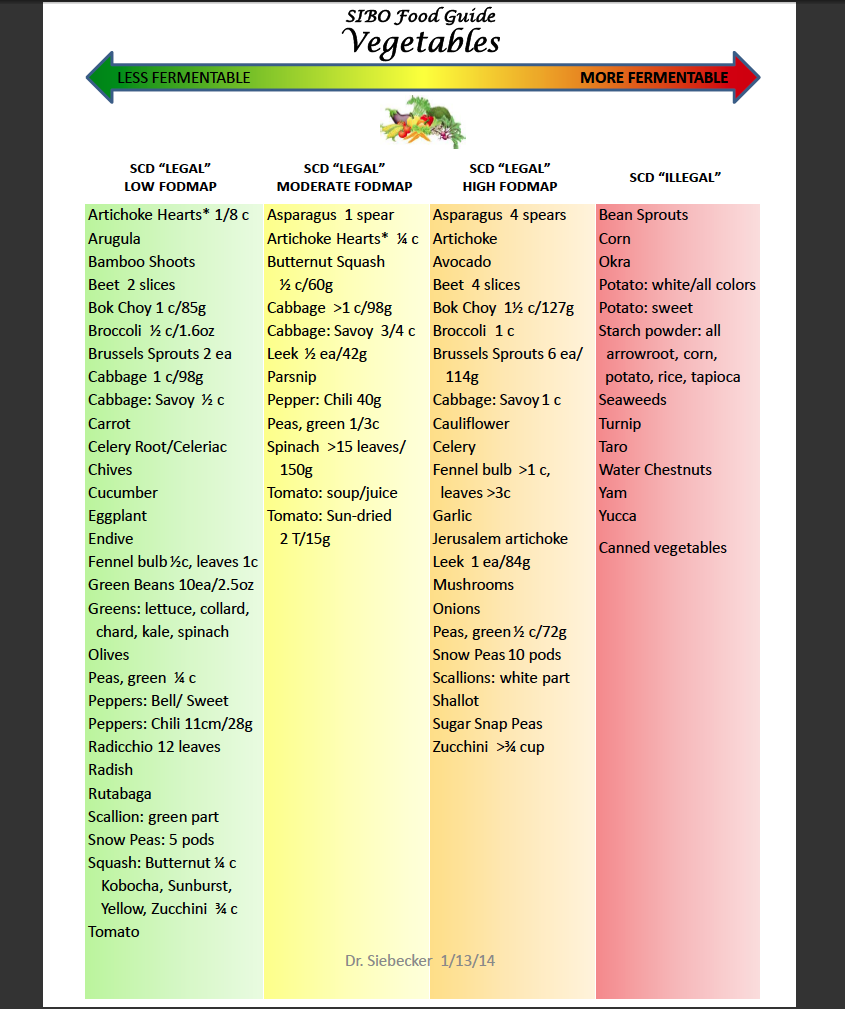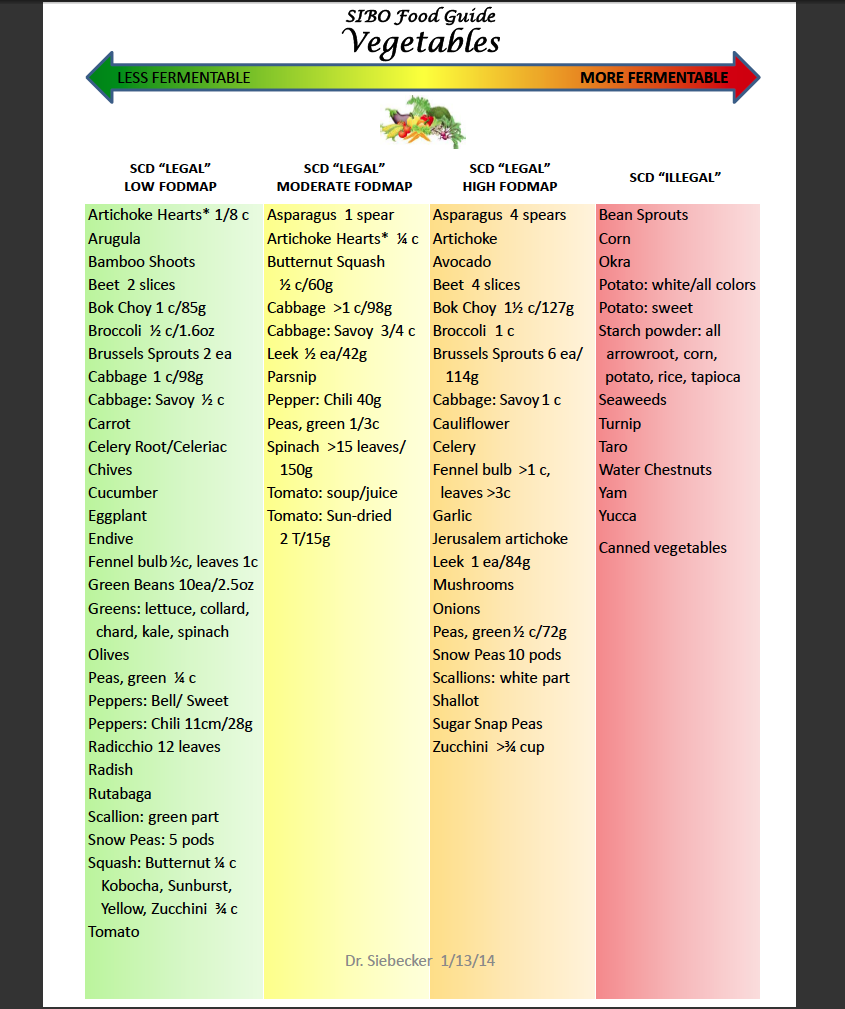 How to use the SIBO Food Chart:
When you first begin:
Eat anything from the "low" column
1 food/meal from the "moderate" column
Avoid the "high" & "SCD Illegal" columns
Do not eat raw foods or beans
The exception to these guidelines is if you know that you can tolerate something from the moderate or high columns. Then you can incorporate that food right away.
After you get the hang of it:
Try incorporating more of the moderate and even high column foods
Can start to eat raw foods and some beans
When to start:
If using as a stand alone treatment:
If using as a preventative after antibiotic treatment (herbal or pharmaceutical):
Start diet slowly while on antibiotics so that by the time you have finished the antibiotic treatment you are fully on the diet. It takes a little while to get the hang of the new diet
Helpful tips
Incorporate Lactose free dairy

Ghee – great for cooking and baking
Aged Cheese – aged past 30 days
Dry Curd Cottage Cheese
24 hour yogurt – rich in probiotics, really helps to sooth stomach; is a helpful addition to diet for weight gain in the underweight

Bananas – can be really helpful especially with hydrogen type SIBO where you are having frequent diarrhea; use with caution if you have constipation as it may worsen symptoms
Wait at least 4 hours between meals – this is very important! You need time for your MMC to be able to clear out old food and bacteria
Wait at least 6-8 weeks before experimenting with foods that are "illegal." Trust us on this one, you don't want to have to start all over again. Your gut needs time to heal before you try foods that are more difficult to handle
Start the first two weeks of the diet with cooked foods only! This is important. Raw foods like salads are really much more difficult for your body to digest and can cause unwanted symptoms. After the initial 2 weeks it is usually OK to start eating raw foods again although in some it may take months so be patient
Don't over do it on nuts. There are a lot of great recipes for delicious baked items with almond flour. It is really easy to eat more than the diet allows and you will feel the consequences of this. Pace yourself with sweets
Add in new foods slowly. Don't experiment with multiple new foods at one time because then you will not know which is the one that has triggered you if you do end up having a reaction
Don't over eat acceptable foods; smaller portion sizes are easier to handle in the beginning
Weight loss prevention tips:
Eat more food more often, set a timer if necessary
Try making shakes with yoghurt, nut butters, fruit and honey. My personal favourite shake is banana, honey, peanut butter, coconut oil and water or homemade almond milk
Add butter and coconut oil to your coffee in the mornings (We know it sounds weird but it is delicious and tastes like a frappé when blended)
Take digestive enzymes
Get some cookbooks and get inspired
References:
Much of this information comes from Dr. Allison Siebecker N.D., a Portland-based Naturopath who specializes in SIBO treatment. Dr. Siebecker has devoted countless hours to the development of the SIBO Specific Diet: Food Guide as well as the continuing education and advancement of knowledge for this condition. For more information on her you can check out her website here.