The post title is the Recipe Title
Images:
Make sure the image name is the same as the recipe title (ie "greenbeans.jpg") For more than one image, add a descriptor (greenbeans-closeup.jpg). Make images no wider than 1000px and "save for the web" so image file is as small as possible.
Sidebar:
Schedule date the blog is to go live – or just hit "Publish"
Select Category (or categories). Always select "All Recipes"
Do not use Tags
Add featured image. Add the Recipe Title to the Title and Alt Text. Do not put text in Caption field. Write a Description that uses the recipe name and a keyword like "SIBO recipe" or "SIBO ingredients". This is especially helpful for Pinterest.
To add recipe ingredients and directions:
Make sure you are in the Visual editing tab:
Click on the Easy Recipe icon
Add Summary, Ingredients, Instructions, Prep Time, Cook Time, Yield. For add'l notes, click on the "Notes" tab and add more. Any misspellings will be underlined in red.
NOTE: if you have multiple sections like "filling:" and "crust" within the ingredients or instructions section, be sure and add two line breaks so the content get a little breathing room. See screenshot below ~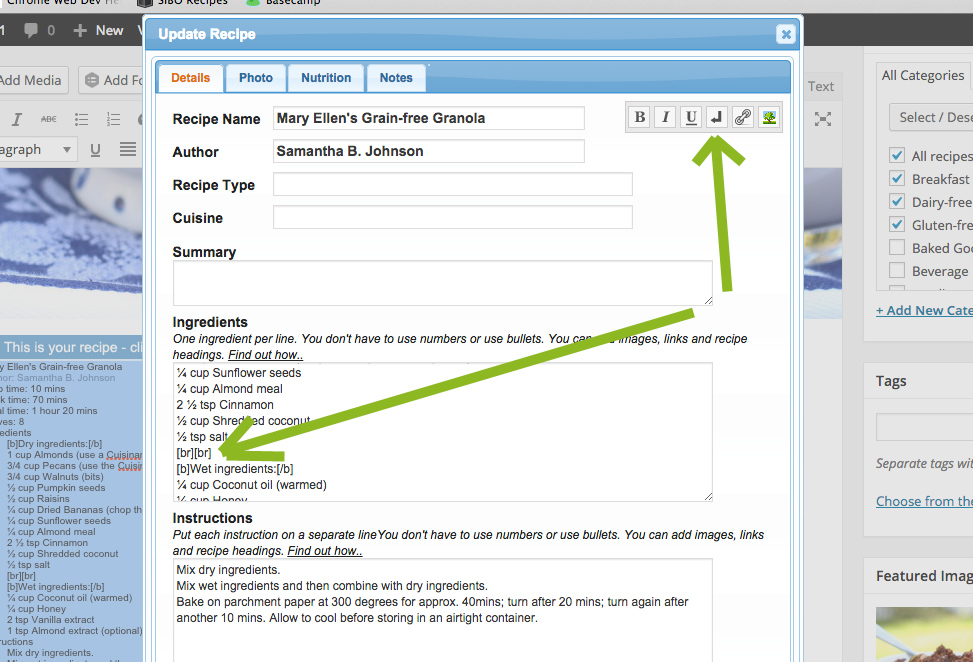 To add large image at the top of the recipe:
Change from the Visual editing mode to the Text editing mode
Click "OK I understand"
Put the cursor at the very top of the editing window and click
Click "Insert Media" and find the image in the image gallery. See screenshot below ~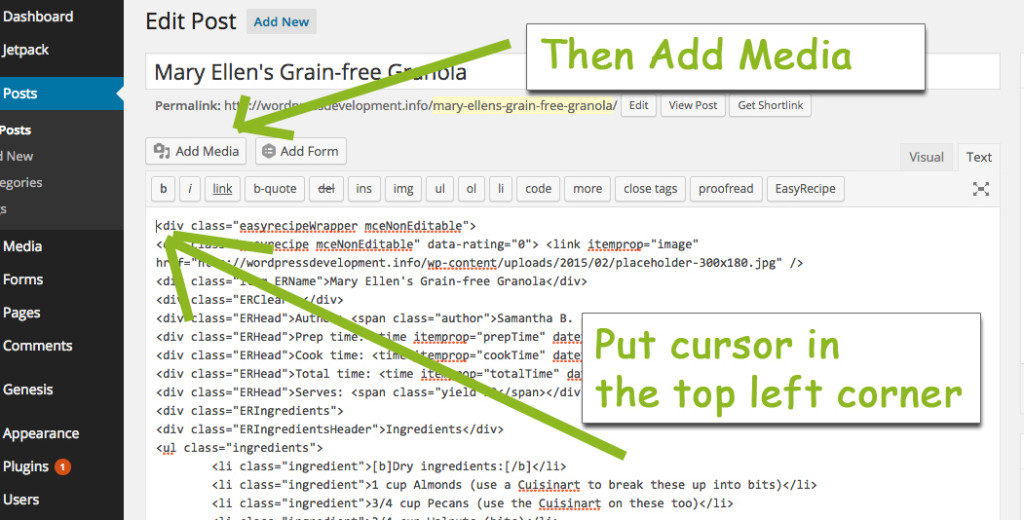 In the Attachment Display Settings, make the Alignment: center, Link: none; and choose Full size (1000px)
MOST IMPORTANT:
Here is where you can capitalize on your keyword and ranking opportunities: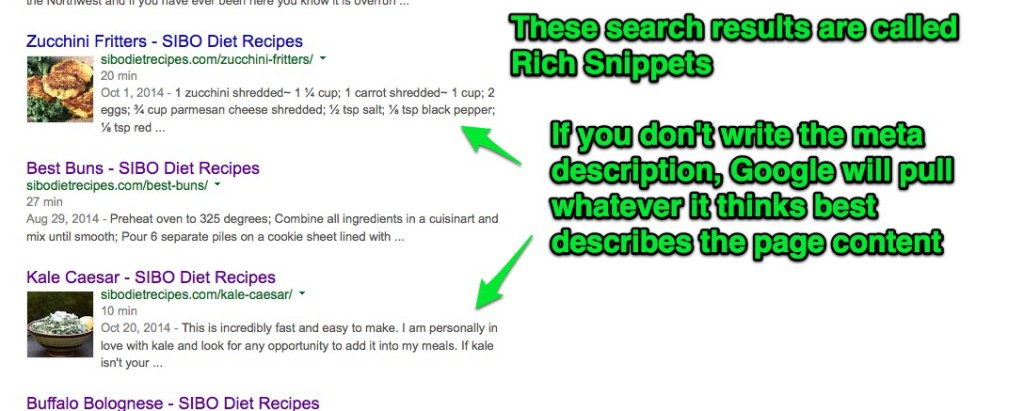 The two lines of grey type are called the "meta description". Each post/page has a place for you to add this manually. It's a few containers below the content area where you add the recipe itself. The section is called "WordPress SEO by Yoast". Look at the next screenshot for explanation. If you want to control what is shown in those 2 lines of text in the example above, you need to put it in the "Meta description" area. Google will grab a good SEO Title so don't bother to write anything in there. And no need to enter anything in "Focus Keywords".
If you can use some of your keywords in the meta description as I have shown in this example, that would be great. You want to rank even more for SIBO terms. Here are your best SIBO keywords:
Small intestinal bacterial overgrowth (there is massive search for this term and at this point, low competition. If you use this in lots of meta descriptions and even in recipe descriptions once in a while, you stand a very, very good chance of gaining even stronger rank)
SIBO treatment (the opportunity to rank for this term is also really, really excellent
SIBO symptoms (another incredible term)
Bloating and gas (huge, huge search)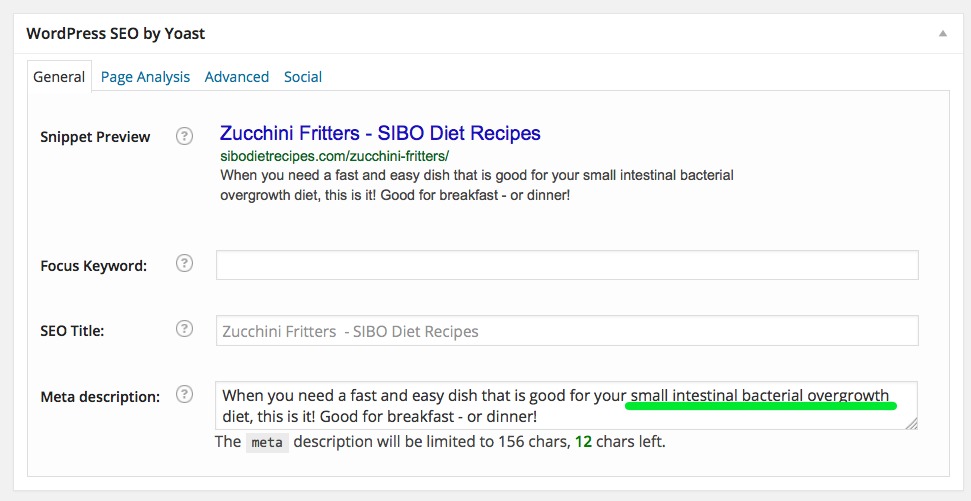 Don't forget to save your work
by clicking the blue button in the sidebar: Update or Publish